The fall Switzerland Section event was hosted by Director Stefan Bieri at Baldegg Monastery, Baldegg. Patrick Jordi and Marc Dörig, of Jordi + Partner AG, presented the project with assistance from Sister Imelda who has lived and worked out of the Motherhouse since she arrived at the Cloister on groundbreaking day.
Baldegg Monastery is located in the so-called Lake Valley between Lucerne and Lenzburg, on a clear day has stunning views of the surrounding countryside and to the Alps. The monastery is split into the historic lower complex and the upper complex. The upper complex was designed by Marcel Breuer (1968-72 /76) in partnership with Jordi + Partner AG when the Franciscan Sisters outgrew the historic lower complex. (Patrick Jordi has led the office since 2003 when his father, Beat, passed away.) The upper complex includes the Motherhouse and Baldegg Sonnhalde Nursing Home. The lower historic center includes the church and school, and the recently converted and renovated Community Center (2007-2008) with hostel, restaurant, shops, offices and apartments. The monastery is located within their extensive farmlands and orchards by the Lake of Baldegg.
Although the afternoon was wet and very foggy, the Breuer complex was still powerful and very moving – perhaps almost mystical. The consequent joining of the classic cloister typology and the modern architectural vocabulary allows for a wonderful play of light and shadow over the precast concrete elements used throughout the interior and exterior. The extensive glass on the cloister garden facade allows sunlight to warm and brighten the regular interior. The cloister gardens soften and enliven the otherwise strict building plan. Perhaps the rhythmical repetition in the facade, plan and section underscore the clarity and calm of the Sister's daily lives inside and outside of the cloister and chapel walls.
The Sisters are an integral part of the local community; hence, when they could no longer use the facilities of the lower complex as housing, they requested Patrick convert the underused portion into a community center. The renovation opened up the lower level, extending the windows to floor level to provide the Sisters with a bright space to welcome their neighbors into their new restaurant and seminar rooms. Here too, repetition and restraint guided the architect to a powerful, subtle and successful solution.
All in all, excellent company and conversation, wonderful tour of the complex and sublime Architecture.
And the final conclusion: 'Gee, we should do this more often!'
Should you wish to visit Baldegg Monastery, the Sisters open their private Chapel monthly, on the 22nd (unless otherwise noted on their webpage) for a musical service followed by coffee and cake in the Cloister Coffeeshop. (http://www.klosterbaldegg.ch/index.php?id=30&no_cache=1)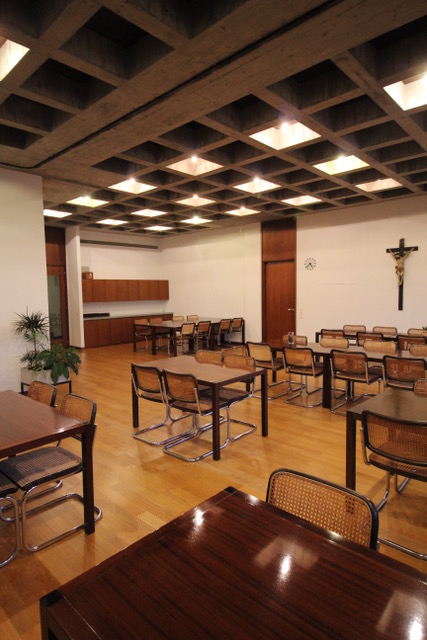 Photos by: Bari Wetmore Salathe, AIA, Stephan Bieri, Int'l. Assoc. AIA. Summary by Bari Wetmore Salathe, AIA.